What is GAP analysis?
Constant search for new opportunities to create relevant content (GAP analysis) is one of the basic non-technical processes that both new and existing websites must constantly go through. The result of the GAP analysis is either an improvement on an existing article or the creation of a new one. In this article, I will focus on using the URLsLab WordPress plugin when creating a new article.
The basic process will be:
How to find the right opportunity – primarily query, KW, which sells to my competitors, but I don't have it processed
Where to find related keywords and why it's important to know about them.
How to create a proposal for the structure of the article, and define the goals of the article.
Assignment for creating a new article and description of the environment
The page on which the content will be published is liveagent.com. Our average traffic is 500k unique visitors, according to Ahrefs we currently rank at almost 200k words at about 3500 URLs. Customer service is an extremely competitive environment and we register more than 70 active competitors in competition monitoring.
The goal is to create a new article on a keyword that is directly related to our niche, has an interesting volume (potential to bring in new clients).
1. Find the right Query using the SERP Monitoring/Queries module
In the SERP monitoring module and the Queries item, which brings together terms related to my website from Google Search Console.
Filter settings:
country: US,
the number of competitors who rank at least 8 per given keyword in the TOP 10 (to avoid irrelevant content)
and my position in Google is worse than 40.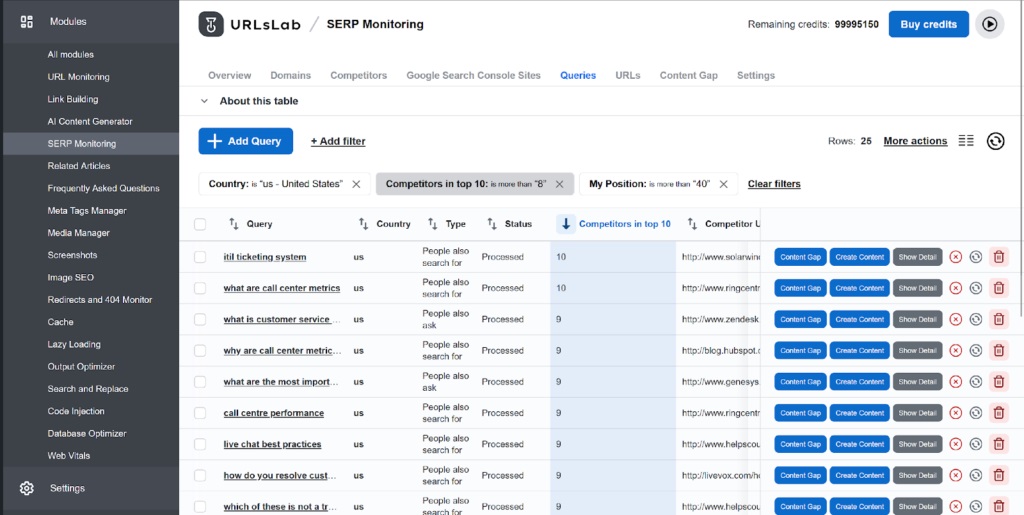 According to volume, I chose the keyword "customer service goals".
In detail, using a list of related queries (keywords that occur on competing sites in top SERP positions along with my primary KW), I define the expected search intent by Google and the target audience.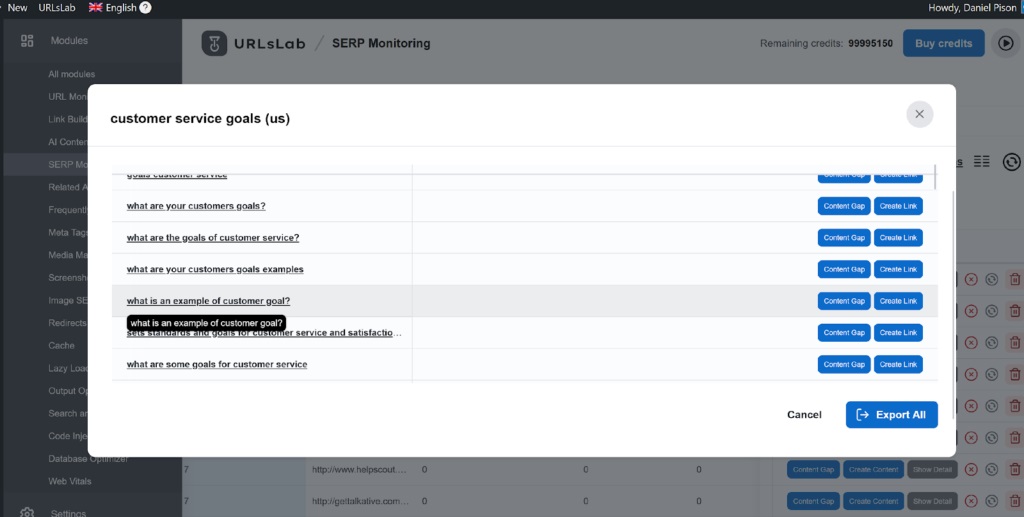 In my case, it is a list and description of the goals and expectations that are placed on the members, management and entire teams of the customer service department. The goals must be SMART, i.e. clearly defined in order to measure the performance/quality of the customer service department.
In the ranked URL list in the My URL filter, I check the list of listed URLs.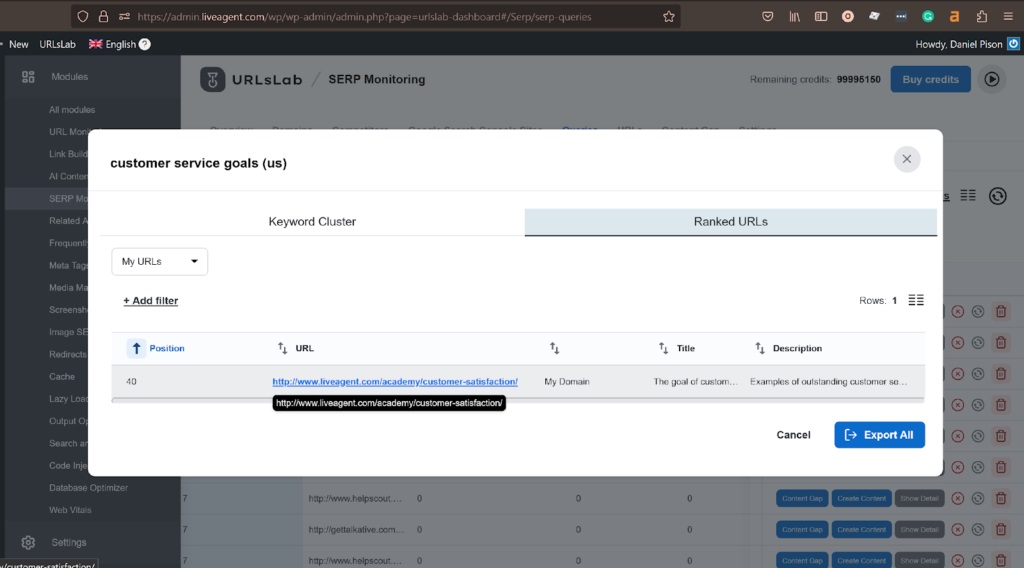 Depending on how much this (these) site meets the search intent, I decide whether it is worth redesigning the site or I am going to create a new one.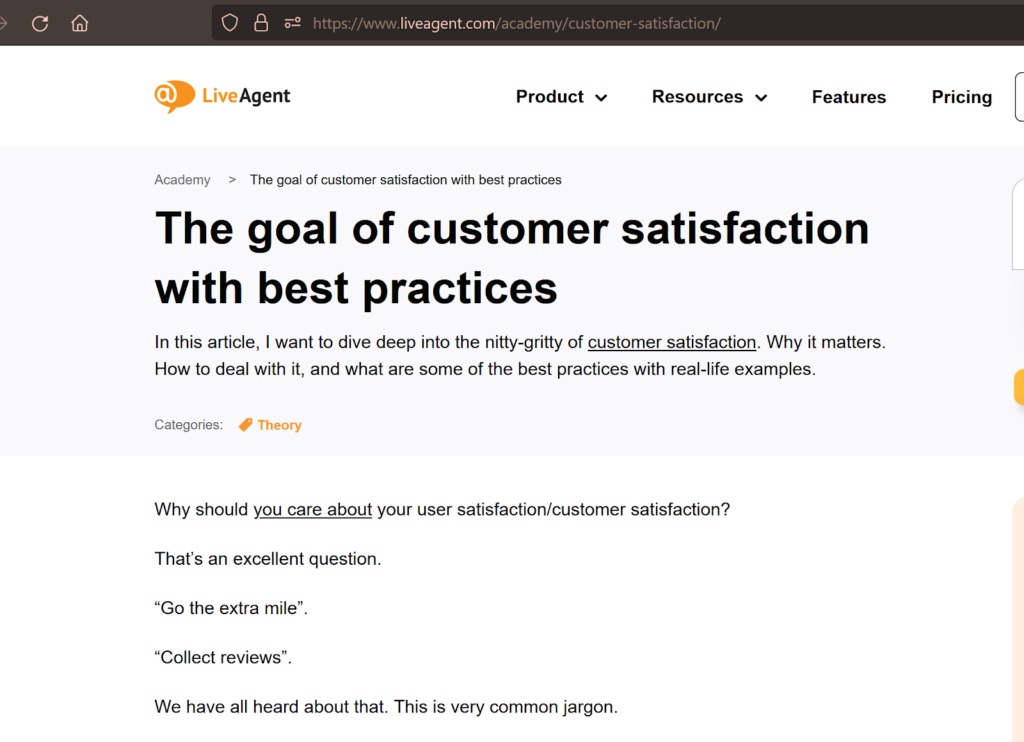 My URL talks about client satisfaction, so it discusses a different topic.
2. Creation of materials for a new article
A keyword cluster, or a list of words that are directly related to the primary keyword for google and other search engines, indirectly defines what search intent you are following with your article. It is quite common for us to rank even on keywords that we do not have in the content at all. The reason is that in the eyes of Google they are relevant to the article and the user gets the answer he is looking for.
However, my goal is to have as many of these keywords as possible directly in the article (including long tails) in a position that will be natural to the reader. Together with internal links to these words, I show search engines the clearest how important they are to me.
I can get a detailed Keyword cluster either by clicking the Content Gap button in the line with a specific Query in Queries, or by manually filling in the Content Gap section.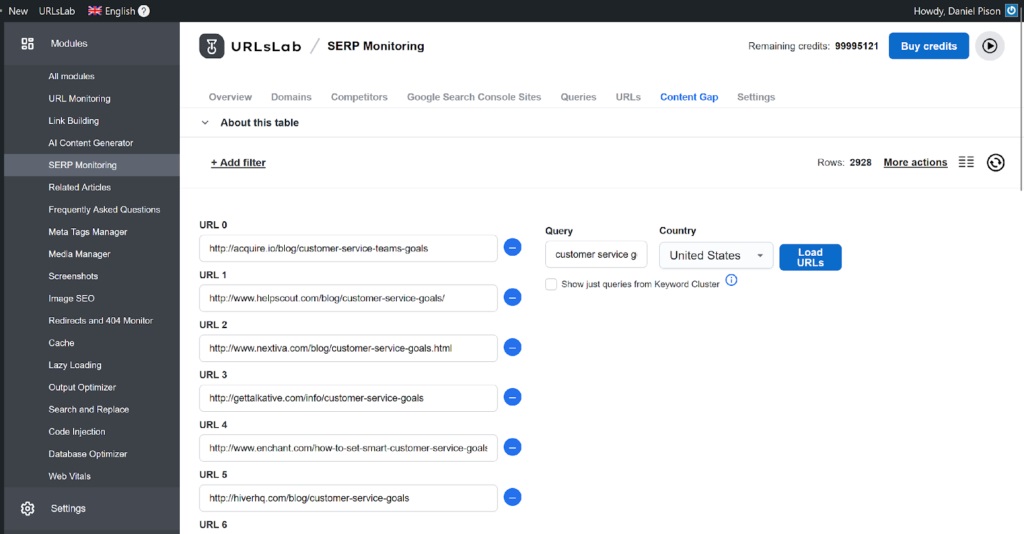 Load URl automatically fills the top positions in the SERPs. I've cleaned these up with irrelevant URLs from the perspective of my expected search intent. The result is a keyword map with frequency and position in the SERPs.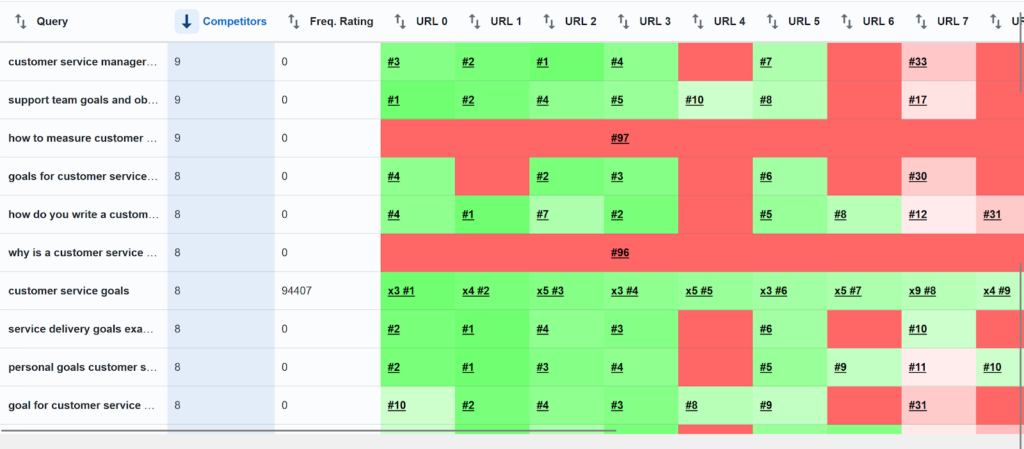 Since there is no word for the word, I follow the following "pointers" on the map:
The green lines tell me about the words that most of the competition ranks on. Thus, there is a high chance that these will be important words both in terms of the content of the article and importance for the reader. I definitely want them to be in my content. All the more so if the frequency of occurrence is low. By actually using these queries, I'm likely to skip the search competition.

Green lines with rank and frequency usually indicate that it is primary or secondary KW. These words should be in Hx.

Blacked rows with rank (or occurrence) for multiple competitors. I judge these Queries one by one. These are words where the competition in most cases does not attach weight, or another URL is ranked on it. I check this with the checkbox above the table:

As long as most of the competition ranks on a given term to another URL, it is a different search intent in the eyes of search engines. Therefore, I will only use these words if it is necessary for the content.

However, if the competition does not rank on these words with a different URL, it is the potential for gaining a competitive advantage. Therefore, I subsequently give weight to these words according to potential volume and compatibility with the intention of the article.

For example, in this case, examples are definitely a topic that can benefit the article and give value to the user who is looking for relevant customer service department goals.
I use keywords in the importance question format as Hx or as content for FAQs.

3. Preparation of the structure of the article
By importance, I divided queries into words that I want in Hx and those that will be in content.
 h1 Customer service goals and objectives to focus on in 2024 (+examples)
 h2 Why you need customer service goals
 h2 How To Set Goals To Improve Your Customer Service
 h2 The most important customer service teams goals and objectives
 h3 Improve customer satisfaction
 h3 Improve net promoter score
 h3 Implement an omnichannel strategy
 h3 Reduce cost per contact (CPC)
 h3 Reduce customer wait time
 h3 Channel-specific metrics
 h3 Humanize the customer experience
 h3 Innovate with the industry
 h3 Being More Transparent About Client Data
 h2 Examples of customer service manager goals and objectives
 h3 Increase quality of customer service responses
 h3 Improve team happiness
 h3 Help agents grow
 h2 Examples of customer service representative goals
 h3 Improve troubleshooting skills
 h3 Improve leadership skills
 h3 Be an accountability partner with your customer
 h2 How to Set 'SMART' Goals for Customer Service
 H3 1. Specific
 H3 2. Measurable
 H3 3. Attainable
 H3 4. Relevant
 H3 5. Time-Bound
 h2 Conclusion
 h2 Frequently asked questions about customer service goals
 h3 How do you write a customer service goal ?
 h3 What are support objectives ?
 h3 What are the main goals of the support team ?
 h3 What is the objective setting for customer service ?
Then for each of the blocks I create instructions of the type:
"h3 Improve customer satisfaction
Explain the importance of improving customer satisfaction and how it can lead to customer loyalty.
Describe the use of customer surveys to gather feedback and measure satisfaction.
Use examples from experts to emphasize the significance of setting customer satisfaction goals and objectives.
Keywords to include: improve customer satisfaction, customer loyalty, customer surveys, measure satisfaction, customer satisfaction goals"
This will ensure that all important words get into the final content.
Even if the proposed structure is top pages on search engines and it is highly probable that the content will satisfy a potential client, only practical know-how can give it real value. Therefore, in this case, I send the draft to our customer service team with a request to add real experience.
Ready to elevate your content strategy?
Explore the power of GAP Analysis with URLsLab WordPress plugin!
Get the WordPress plugin