When it comes to eCommerce, your website isn't just a digital storefront—it's the backbone of your business. As such, ensuring it's fully optimized for search engines is critical to your success. Below, I'll delve into the common technical SEO issues that need to be fixed to set the foundation for an effective SEO campaign and make it easier for Google to crawl, index, and rank your pages.
1. Fix Broken Links
Broken links are not just a nuisance to your customers; they also disrupt search engine crawlers. Ensuring all internal links are functioning correctly is key to a smooth user experience and helps search engines understand your site structure. Regularly audit your site to find and fix broken links.
URLsLab can scan periodically content of your website and identify all broken links. Broken links can be hidden automatically with single click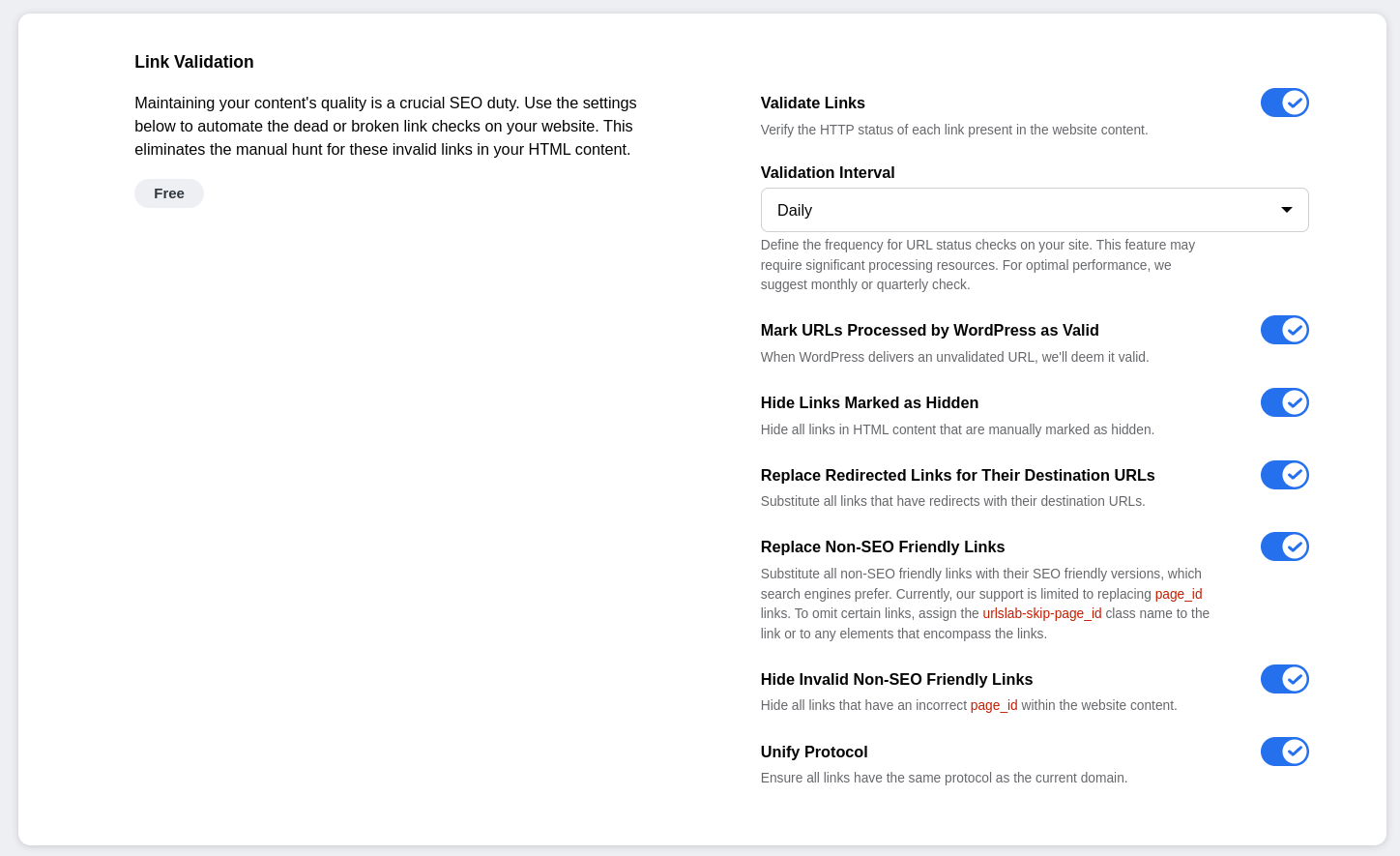 2. Repairing Broken Backlinks
Back links are a cornerstone of SEO strategy. When external sites link to pages that no longer exist on your site, these broken back links can harm your SEO. Use tools like Ahrefs or SEMrush to identify and reclaim these lost link opportunities. To fix these issues define redirects to new page on your website or create page with original URL. URLsLab plugin can help you with setup of permanent redirects in your WordPress installation.
3. Crafting Compelling Meta Titles & Descriptions
Missing meta titles and descriptions are missed opportunities for keyword optimization and click-through rate improvement. Each page should have a unique meta title and description that includes relevant keywords and compels users to click through from search engine results. URLsLab plugin can add missing meta descriptions automatically on each page of your web site by summarizing the content of your page.

4. Ensuring the Presence of H1 Tags
An H1 tag is often the first thing a user sees on a page and should summarize the content accurately. It's also important for search engines. Make sure every page on your site has a unique H1 tag that includes primary keywords. H1 tag should contain main keyword of page. To identify main keyword of the page, use keyword cluster tool and choose keyword with highest volume.
5. Eliminating Duplicate Content
Duplicate content can confuse search engines and may lead to penalization. Use canonical tags to point search engines to the original content and ensure that each product description is unique and keyword-rich.
URLsLab can help you with identifying duplicate content as well. If more URLs are rasnking for the same keyword cluster group, it could be sign of duplicate content on your website.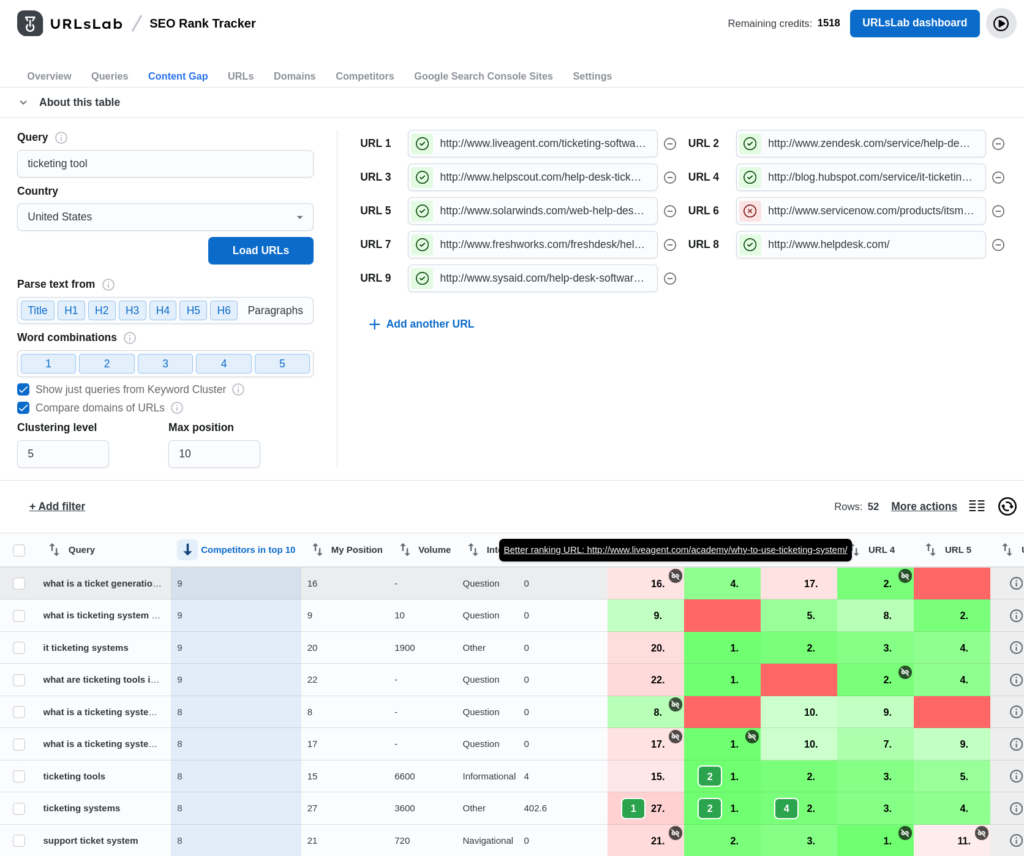 6. Purging Low-Value Content
Content that doesn't add value to your users may be seen as 'thin' by search engines and can negatively affect your rankings. Audit your site for low-value content and work on improving or removing it.
7. Deindexing Paginated Pages
Indexed paginated pages can lead to content duplication issues. Use the rel="next" and rel="prev" tags to help search engines understand the relationship between paginated pages, or consider deindexing them altogether if they don't add SEO value.
8. Enhancing Internal Linking
Poor internal linking can lead to missed SEO opportunities. A robust internal linking strategy helps distribute page authority throughout your site and guides users to more of your content. Ensure your most important pages are internally linked with appropriate anchor texts. URLsLab can automate internal linkbuilding on your web site and add thousands of links with zero effort.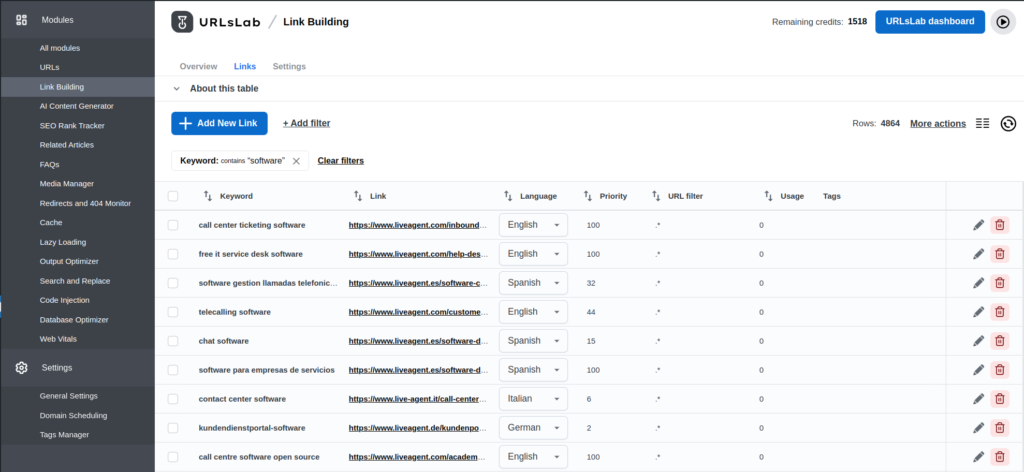 9. Boosting Website Loading Speed
A slow website loading speed is a deterrent to both users and search engines. Optimize images, leverage browser caching, and reduce server response times to improve loading speeds. Use tools like Google PageSpeed Insights to identify areas for improvement. Or monitor web vitals of real web site visitors on your domain. URLsLab can help you to identify slow CSS or HTML elements in your DOM.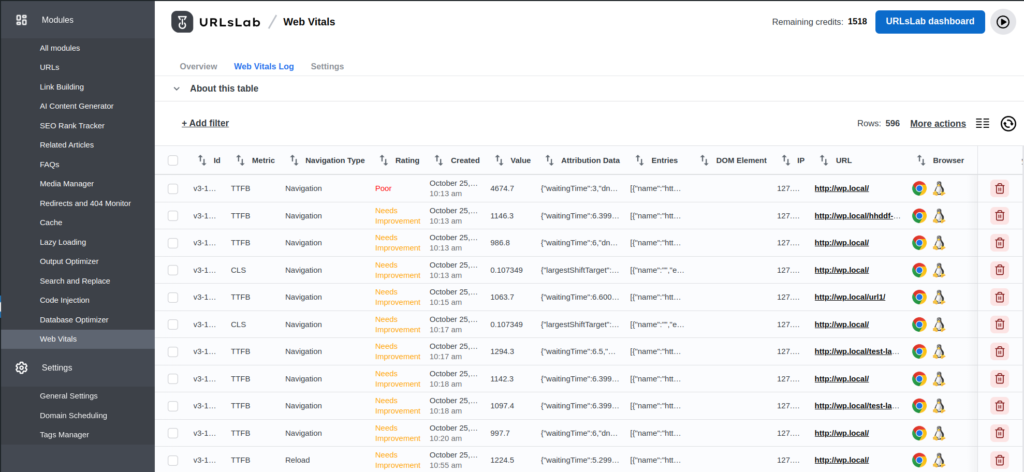 Setting the Stage for SEO Success
By addressing these technical SEO issues, you're not just fixing errors; you're building a strong foundation for your ecommerce SEO campaign. It's crucial for making your site more accessible to search engines and improving your overall rankings.
Keyword Research: The Cornerstone of Your SEO Strategy
Keyword research is essential for understanding what your customers are searching for. Use tools like Google Keyword Planner to find relevant keywords for your product descriptions and meta tags. This will help ensure that the right users are finding your products.
Linkbuilding: An Ongoing Endeavor
Link building should be a continuous effort. High-quality, relevant back links can significantly boost your domain authority and increase your site's trustworthiness in the eyes of search engines. Develop a link building strategy that focuses on building relationships and providing value to your audience. We can help you with automation of this process in scale of millions of links.
Conclusion
Technical SEO may not be the most glamorous part of SEO, but it's undeniably critical. By ensuring that the technical aspects of your eCommerce site are in order, you're setting your business up for long-term success in the digital marketplace. Remember, SEO is a marathon, not a sprint—start building your foundation today.
Ready to Elevate Your Ecommerce SEO?
Begin leveraging the URLsLab WordPress plugin to enhance your website's search engine optimization. The plugin automates numerous SEO functions, yet our team is also on hand to assist with your day-to-day SEO activities. Just reach out to our professionals. Subscribe to our newsletter for additional SEO insights and take advantage of our content gap checker to elevate your local search visibility.